McLaren Car Logo Meaning Explained

McLaren continues to produce some of the best-performing and sleek new sports cars you'll see around West Palm Beach and world. Simply put, if a vehicle bears the McLaren logo, you know it can only be a supercar of the highest caliber. A lot of Jupiter drivers ask us, "What is the McLaren Logo? Is the McLaren logo a kiwi? Is there a meaning behind the McLaren symbol?" Like many car logos, the McLaren symbol has its own storied history. Here, McLaren Palm Beach explains the meaning behind the McLaren car logo and chronicles its evolution over the years!
Origins of the Mclaren Car Logo
The first McClaren symbol is a badge with racing stripes and the unmistakable silhouette of a kiwi. So why is the McLaren logo a kiwi in its first iteration? Bruce McLaren, the founder of this legendary racing brand, is from New Zealand. He wanted to commemorate his love for his home country, whose beautiful vistas feature prominently in Peter Jackson's Lord of the Rings trilogy. So he had his friend Michael Turner design this crest in 1964 for the McLaren racing team.
Is the McLaren logo a kiwi in its next iteration? The next McLaren logo symbol was called the "Speedy Kiwi," and it debuted in 1967. This sleek design came with a big stylish statement in the form of a bright orange paint coat!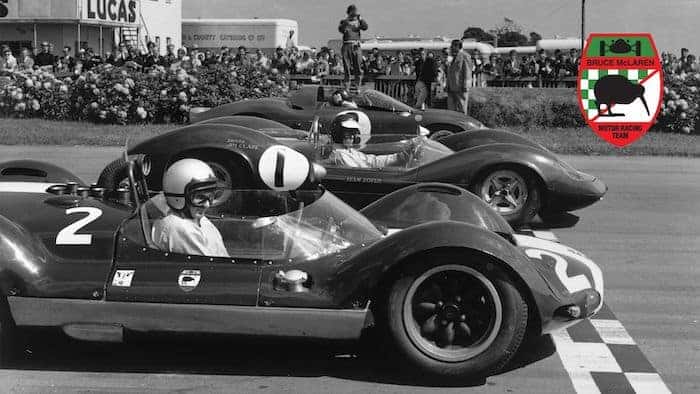 What is the Symbol After the McLaren Kiwi?
In the '80s, McLaren was expanding rapidly, and so the McLaren symbol underwent some changes. Phillip Morris became a big sponsor and wanted the next McLaren car logo to reflect their input. So how was Phillip Morris represented in the McLaren symbol? Through a combination of racing stripes and a color palette that closely resembles a pack of Marlboro red cigarettes! I wonder if the Marlboro man ever drove a McLaren?
Origins of the McLaren Swoosh
The next steps in the McLaren logo lead to the creation of the now-iconic McLaren swoosh. In 1997, the series of red-and-black checkered chevrons was reduced to a single chevron. This minimalist reduction of the McLaren car logo paved the way for what many like to call the "McLaren swoosh," which, if you look closely enough, almost corresponds to the elegant curvature on the body of the noble Kiwi bird, designed by Mother Nature herself.
Learn More About the McLaren Brand With McLaren Palm Beach
At McLaren Palm Beach, we're always thrilled to introduce sports car aficionados to the wonderful world of McLaren vehicles. And the experts at our service center are, of course, able to take care of the complex machinery inside them! If you want to know more about the current McLaren lineup or wish to see the McLaren logo in person, contact us today!
From Kiwi to Swoosh: The Evolution of the McLaren Logo in Pictures

Recent News from McLaren Palm Beach
Though the McLaren 720S is most famous for its athletic performance and chassis design, Wellington drivers can expect the cockpit to be every bit has inspired. Take a moment to review the highlights of the 2022 McLaren 720S design for the cabin, including the 2022 McLaren 720S seating capacity, 2022 McLaren 720S dimensions, and…

McLaren offers Jupiter drivers an unusual amount of freedom when it comes to customizing the 2022 McLaren Artura. Hypothetically, you could work directly with a McLaren factory and customize your car from the bottom up. If that sounds stressful, there are six 2022 McLaren Artura packages to choose from, each of which includes a number…

The 2022 McLaren Artura offers Jupiter drivers hypercar performance with exceptional fuel economy numbers, thanks to a plug-in hybrid powertrain. In fact, the McLaren features a dedicated EV mode. Take a moment to learn about what the critics have to say about this hypercar benchmark in their 2022 McLaren Artura reviews. Then, fill out a…