How Fast is the 2021 McLaren 570S 0-60 MPH Time?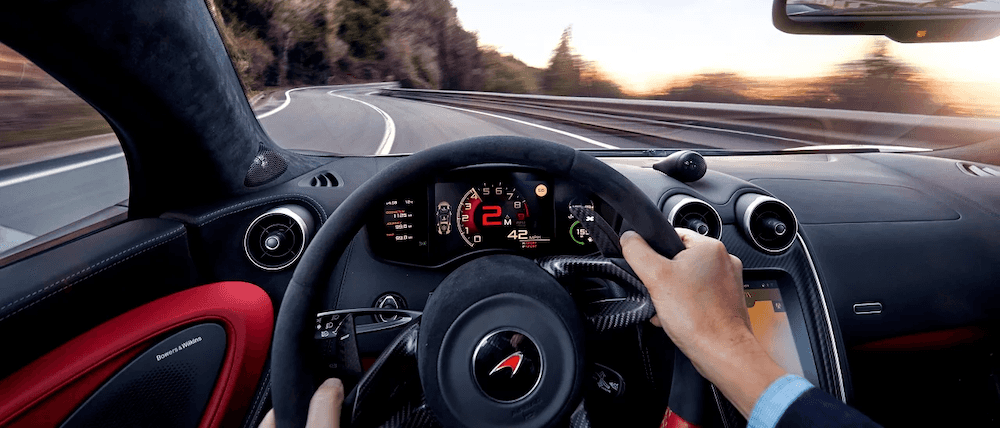 Just how fast is a McLaren 570S? The 2021 McLaren 570S can accelerate to 60 mph in just 3.2 seconds on West Palm Beach roads. Read on to learn about all of the McLaren 570S acceleration times and top speed, and then fill out a pre-approval and contact McLaren Palm Beach to book your test drive!
2021 McLaren 570S Top Speed & Acceleration Times
As we mentioned above, the 2021 McLaren 570S 0-60 mph time is just 3.2 seconds! For the full picture of how fast a McLaren 570S is, let's take a look at some of its key performance metrics:
2021 McLaren 570S 0-60 MPH Time: 3.2 seconds
2021 McLaren 570S 0-124 MPH Time: 9.5 seconds
2021 McLaren 570S Quarter Mile Travel Time: 10.7 seconds
2021 McLaren 570S Top Speed: 204 mph
2021 McLaren 570S Engine Specs
Now that you're better acquainted with the powerhouse performance of the McLaren 570S, let's take a look at the engine responsible for the model's tremendous acceleration power. With a 3.8L V8 engine with Twin Turbochargers and a Dry Sump, the McLaren 570S outputs 562 bhp, 443 lb-ft of torque, and weighs just 2,895 pounds. This pairing of a lightweight carbon fiber chassis with a ferocious drivetrain is sure to help you dominate competition at the local track.
With Active Dynamics Panel, you'll be able to toggle between Normal, Sport, or Track modes. This system allows you to adapt your McLaren 570S to the roads you drive on. We recommend Normal for the everyday, Sport for your joyrides, and Track for local meetups at Palm Beach International Speedway.
Experience the Thrill-Inducing McLaren 570S in West Palm Beach
If you have more questions about the 2021 McLaren 570S top speed or you want to experience the model's lightning-fast 0-60 MPH time with a test drive in West Palm Beach, call McLaren Palm Beach at 561-556-5454. We'll walk you through everything the 570S has to offer in greater detail. While you're here, take a moment to explore our McLaren research guides for more information about McLaren warranty coverage.
Recent News From McLaren Palm Beach
On August 5th, the McLaren Formula 1 Team notified Daniel Ricciardo that, for the 2023 season, he will be replaced by the Australian Formula 2 champion, Oscar Piastri. Piastri is a renowned up-and-comer who's made a name for himself as a rising star on the F2 Alpine team. Learn more about the team's decision below….

Are you considering a McLaren super coupe near Jupiter? If so, your first question is probably going to be, "How much does the 2022 McLaren 765LT cost?" The price of the 2022 McLaren 765LT starts at $358,000 MSRP, and the price of the 2022 McLaren 765LT Spider starts at $382,500 MSRP. That said, McLaren prides itself as a…

Though the McLaren 720S is most famous for its athletic performance and chassis design, Wellington drivers can expect the cockpit to be every bit has inspired. Take a moment to review the highlights of the 2022 McLaren 720S design for the cabin, including the 2022 McLaren 720S seating capacity, 2022 McLaren 720S dimensions, and…