How Fast is the 2021 McLaren 765LT?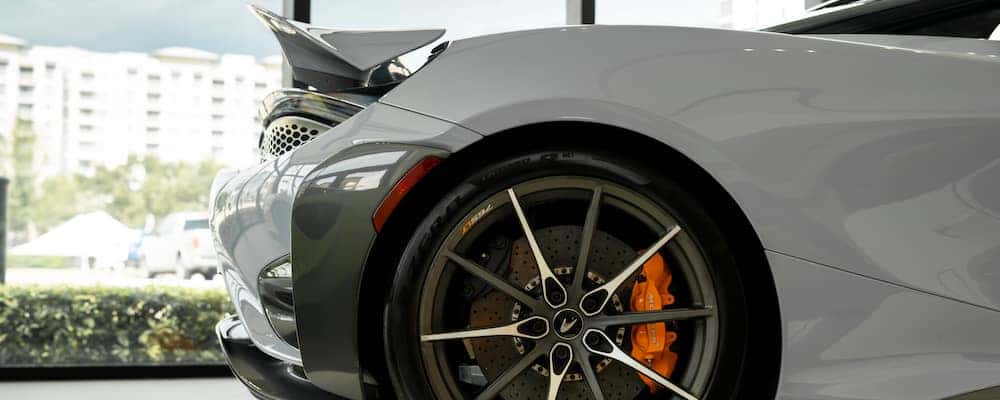 The McLaren 765LT has a top speed of 205 mph and can travel a quarter of a mile down Jupiter roads in 9.3 seconds. Read on to learn more about the McLaren 765LT 0-60 mph time, engine specs, and performance-enhancing features. Then fill out a pre-approval and get in touch with McLaren Palm Beach!
2021 McLaren 765LT 0-60 MPH & Engine Specs
The McLaren 765LT engine is a 4.0L V8 with a dry sump and twin electrically-actuated twin-scroll turbochargers. Here's a quick breakdown of the McLaren 765LT 0-60 mph time, the McLaren 765LT top speed, and more:
0-62 mph in 2.8 seconds
0-124 mph in 7 seconds
590 lb-ft of torque
755 bhp (brake horsepower)
205 mph top speed
Can brake from 62- 0 mph in 97 feet
Can brake from 124-0 mph in 361 feet
You can thank the McLaren carbon fiber chassis for this incredible performance. The body of the 765LT is built with high-grade, light-weight carbon and was designed by an algorithm that scrubbed every inessential gram from the blueprints, all while perfecting the aerodynamics of the model's shape. In fact, this year's 765LT sees an increase in downforce of 25% and weighs only 2,709 pounds.
Noteworthy 2021 McLaren 765LT Features
While the McLaren 765LT is primarily known for its performance, Wellington drivers can rest assured that McLaren doesn't skimp on any other aspect of the 765LT. Here are a few feature highlights you'll enjoy:
Quad-pipe full-titanium sports exhaust system
Louvered carbon fiber front fenders
McLaren Vehicle Lift
Alcantara interior trim
Ultra-Lightweight 10-Spoke Forged Alloy Wheels with finished Platinum, secured with titanium wheel bolts
Carbon-fiber exterior upgrade pack
Your choice of carbon fiber racing seats or power-adjust heated memory sports seats
McLaren-branded mats
Bowers & Wilkins 12-speaker branded audio system
Carbon-fiber primary interior components pack
MSO-defined carbon fiber extended shift paddles
Bare Carbon Floor
Experience the Powerful McLaren 765LT at McLaren Palm Beach
To experience the McLaren 765LT 0-60 time on Boca Raton streets, give McLaren Palm Beach a call at 855-696-2527. We're happy to further discuss the McLaren 765LT engine specs with you. If you have questions about other McLaren features, be sure to explore our manufacturer guides for more information on McLaren lightweight architecture, McLaren 765LT pricing, and more!
Recent News From McLaren Palm Beach
On August 5th, the McLaren Formula 1 Team notified Daniel Ricciardo that, for the 2023 season, he will be replaced by the Australian Formula 2 champion, Oscar Piastri. Piastri is a renowned up-and-comer who's made a name for himself as a rising star on the F2 Alpine team. Learn more about the team's decision below….

Are you considering a McLaren super coupe near Jupiter? If so, your first question is probably going to be, "How much does the 2022 McLaren 765LT cost?" The price of the 2022 McLaren 765LT starts at $358,000 MSRP, and the price of the 2022 McLaren 765LT Spider starts at $382,500 MSRP. That said, McLaren prides itself as a…

Though the McLaren 720S is most famous for its athletic performance and chassis design, Wellington drivers can expect the cockpit to be every bit has inspired. Take a moment to review the highlights of the 2022 McLaren 720S design for the cabin, including the 2022 McLaren 720S seating capacity, 2022 McLaren 720S dimensions, and…