IndyCar Star JR Hildebrand Meets the McLaren Elva
IndyCar driver, JR Hildebrand, recently got acquainted with the new McLaren Elva, and offered his thoughts on driving this newest McLaren Ultimate series vehicle. If you're considering a McLaren Elva for sale at McLaren Palm Beach, take a moment to read about the McLaren Elva design and top speed, and hear what JR has to say about McLaren's lightest hypercar yet. Then, apply for financing and contact us to register interest near Jupiter.
Designed for Pure Driving Connection: McLaren Elva Highlights
Designed for pure driving connection, engagement, and enjoyment, the Elva is the lightest and most driver-focused vehicle in the McLaren model line-up. Powered by an 804bhp twin-turbo V8 engine with 800NM, the McLaren Elva is capable of a ferocious 0-60 mph time of 2.8 seconds, and its swiftness is accompanied by razor-sharp handling. As for the McLaren Elva top speed, you can expect up to 198 mph on the tracks near Wellington. Other highlights of the new McLaren Elva include:
Active Air Management System that turns turbulence into downforce
Bespoke Quad Exhaust System
Proactive Chassis Control II
Roll-over Protection System
Full Carbon Fiber Body
Carbon Fiber Dihedral Doors
As for the McLaren Elva price, the model starts at 1.7 million. With only 149 models in production, this hypercar is among the finest and rarest autos in history.
What JR Hildebrand Had to Say About the New McLaren Elva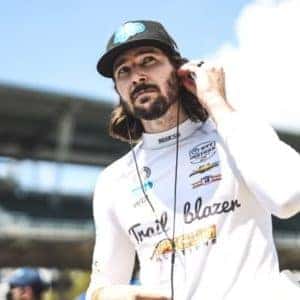 You've learned about the McLaren Elva price, the McLaren Elva top speed, and some of the other highlights on our McLaren Elvas for sale. To get a more visceral experience of how the Elva handles, let's take a look at what IndyCar driver, JR Hildebrand, has to say about his experience of the Elva:
''The Elva is the newest car in the growing stable of McLaren Ultimate Series machines, with not only hyper-car performance but a hyper-specific use case. Where the McLaren Senna and McLaren Senna GTR exist to be the ultimate in track weapons, the Elva is designed for the ultimate immersive experience on your favorite roads, and to be completely unhidden from your environment – whether that be a coastal sea breeze or the paparazzi flash pulling up on Rodeo Drive.
This car isn't for everyone, nor is it for every situation. If it was built for maximum comfort and usability, it would have windows, a convertible roof, and a few more places to put your things. But it's not, and it doesn't pretend to be. This car is for owning the fact that you, yes *you*, are driving a McLaren Elva, and for freeing yourself from whatever else you have going on to tap into the moment at hand by going for a drive.
It's impossibly nimble and lightweight, blurring the boundaries between the car and all of its environment. Get this thing in a tunnel, wick it up to 9000rpm, pile on the brakes and bang that downshift – just the snap, crackle, and pop that this thing gives you.
It provides the purest sensation of connection to the road, it excites all your senses from smell, to taste, to the feeling through the steering wheel. It's the most incredible machine for the A to A journey, just getting out and driving like nothing else matters."
Register Interest for the McLaren Elva for Sale Near Boca Raton
If you have questions about the McLaren Elva top speed or McLaren Elva price, or you'd like to register interest in an Elva, give McLaren Palm Beach a call at 855-696-2527. The Elva is available with a windshield, as driven by JR, or with the Active Air Management System. Furthermore, McLaren Special Operations allows you to customize nearly every aspect of your Elva in hundreds of ways. We'd love to help you navigate all of your options. If you have further questions about McLaren models and features, don't forget to explore our McLaren research guides for other information about McLaren Lightweight Vehicle Architecture design principles and the McLaren warranty!
Recent News From McLaren Palm Beach
Though the McLaren 720S is most famous for its athletic performance and chassis design, Wellington drivers can expect the cockpit to be every bit has inspired. Take a moment to review the highlights of the 2022 McLaren 720S design for the cabin, including the 2022 McLaren 720S seating capacity, 2022 McLaren 720S dimensions, and…

McLaren offers Jupiter drivers an unusual amount of freedom when it comes to customizing the 2022 McLaren Artura. Hypothetically, you could work directly with a McLaren factory and customize your car from the bottom up. If that sounds stressful, there are six 2022 McLaren Artura packages to choose from, each of which includes a number…

The 2022 McLaren Artura offers Jupiter drivers hypercar performance with exceptional fuel economy numbers, thanks to a plug-in hybrid powertrain. In fact, the McLaren features a dedicated EV mode. Take a moment to learn about what the critics have to say about this hypercar benchmark in their 2022 McLaren Artura reviews. Then, fill out a…