McLaren FWD Tour in West Palm Beach, FL

The McLaren FWD Tour is coming to West Palm Beach September 15-17, 2022! After being postponed for two years, a few of our neighbors in Jupiter will finally have a chance to test drive the McLaren Artura! Typically, only drivers who are approved for McLaren financing and ready to put a down payment on a McLaren model are privy to test-driving McLaren supercars. However, the McLaren FWD Tour invites select McLaren enthusiasts to enjoy a McLaren Artura test drive.
You'll still need an invitation, and you'll need to reserve your 15–30 minutes of VIP drive time, but you don't necessarily have to commit to the Artura in order to enjoy all of its innovative performance features. What's more, you'll be able to enjoy light fare and meet the McLaren Sales Team. Take a moment to learn more about the event, as well as the new McLaren Artura PHEV. Then, contact McLaren Palm Beach if you'd like to make an inquiry!
McLaren FWD Tour Event Details
If you're a Wellington driver interested in a McLaren Artura test drive experience, you'll want to attend the McLaren FWD Tour September 15-17 at McLaren Palm Beach. Bear in mind that it is invitation-only for several of the events mentioned below. But, if you have a relationship with McLaren as an owner, journalist, or business associate, keep your eyes peeled for a possible invite to this exclusive event. Highlights of the event will include:
Ability to reserve a McLaren Artura test drive with a Product Advocate
Chance to meet the McLaren Sales Team (if you're interested in an inquiry)
Detailed presentation on the McLaren Artura and tour
Light refreshments and hors d'oeuvres
Walkthrough of the custom configurator experience
Thursday, September 15th – FWD Fest Car Show (2-6pm)
This event is open not only to McLaren owners but to the public as well! Artura depositors and McLaren owners can also take a test drive. Still, everyone will be able to enjoy a mini car show at our dealership, and there will be music, giveaways, and live radio via ESPN West Palm with Josh Cohen, not to mention some other fun surprises you won't want to miss!
Friday, September 16th – Ocean Test Drive at Flagler Steakhouse, The Breakers (Time TBD)
Day 2 of the FWD Tour will be by invitation only, with only 20-30 invitees in attendance. There will be lite bites, followed by a scenic waterfront drive and an exclusive photo shoot.
Saturday – September 17th – Cocktails & Collectibles (6-9pm)
Day 3 will be by invitation only as well, although we'll be hosting a larger group than on Day 2. Saturday's festivities will take place at Extreme Velocity MotorSports and will feature catering and cocktails, cigars, collectibles, and more!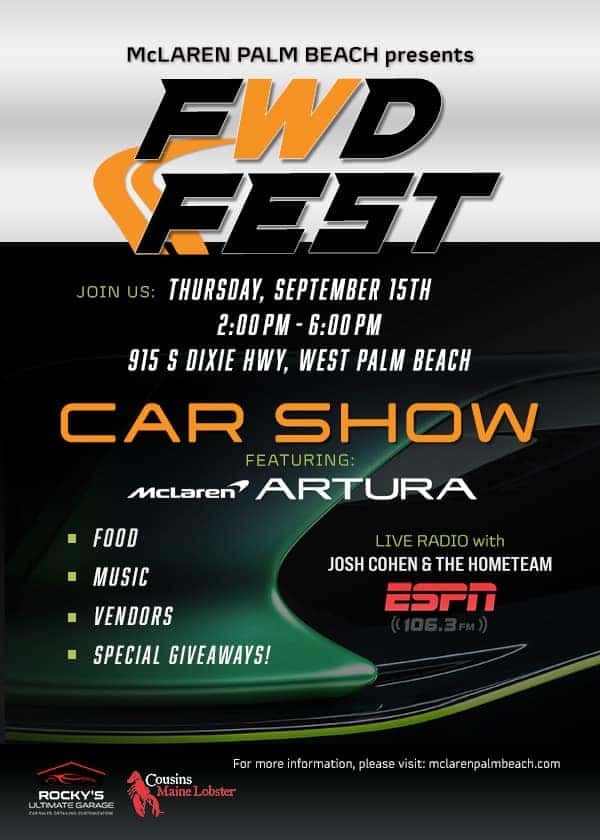 McLaren Artura Highlights
The McLaren Artura offers Boca Raton drivers supercar performance with a PHEV powertrain. It offers a V6 engine capable of 577 hp and 431 lb-ft of torque on its own. It also features a 94-hp electric motor that raises total hp and torque to 671 hp and 531 lb-ft of torque. Its electric motor is powered by 7.4-kWh battery that provides the Artura with 11 miles of dedicated electric range in EV mode. What's more, most of that range can easily be charged by the V6, so trips to charging stations are likely to be highly infrequent. Despite being a plug-in hybrid, the Artura can reach a top speed of 205 MPH!
Learn More About this McLaren Artura Test Drive Opportunity
Again, please keep in mind that most events for this year's McLaren FWD Tour are invite-only, with only the first day's festivities being open to the public. If you have further questions or would like to make an inquiry about the new McLaren Artura, call McLaren Palm Beach at 561-556-5454 to learn more!
More from McLaren Palm Beach
On August 5th, the McLaren Formula 1 Team notified Daniel Ricciardo that, for the 2023 season, he will be replaced by the Australian Formula 2 champion, Oscar Piastri. Piastri is a renowned up-and-comer who's made a name for himself as a rising star on the F2 Alpine team. Learn more about the team's decision below….

Are you considering a McLaren super coupe near Jupiter? If so, your first question is probably going to be, "How much does the 2022 McLaren 765LT cost?" The price of the 2022 McLaren 765LT starts at $358,000 MSRP, and the price of the 2022 McLaren 765LT Spider starts at $382,500 MSRP. That said, McLaren prides itself as a…

Though the McLaren 720S is most famous for its athletic performance and chassis design, Wellington drivers can expect the cockpit to be every bit has inspired. Take a moment to review the highlights of the 2022 McLaren 720S design for the cabin, including the 2022 McLaren 720S seating capacity, 2022 McLaren 720S dimensions, and…