2022 McLaren Artura Range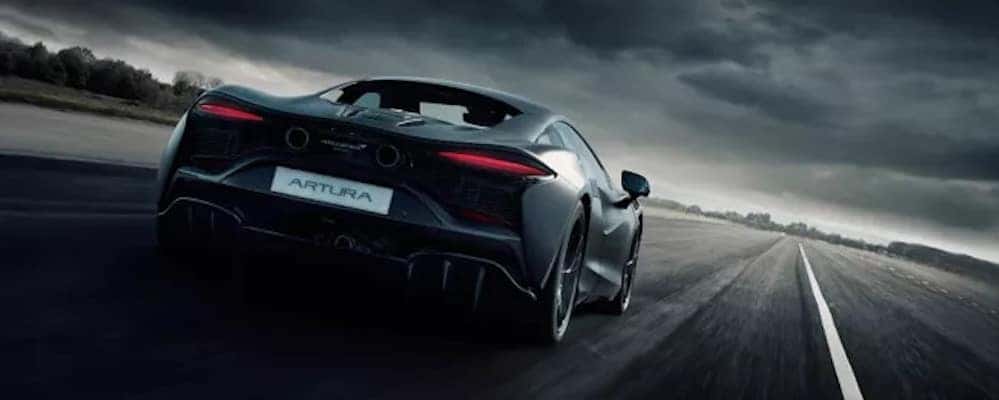 Though production of the 2022 McLaren Artura has been delayed until the 2nd quarter due to the chip shortage, the buzz around this revolutionary supercar continues to build. With astonishing power, the generous 2022 McLaren Artura fuel tank capacity, and impressive battery life, you can expect this plug-in electric hybrid supercar to feature fierce power, fast charging, and a longer range than much of the competition. Take a moment to learn about the 2022 McLaren Artura range and engine specs. Then, contact McLaren Palm Beach to express your interest in the new Artura.
2022 McLaren Artura Electric Range and Charging Times
As a plug-in electric hybrid, the McLaren Artura will feature standard hybrid power with a dedicated electric mode. Switch the McLaren Artura battery to full-electric power, and you'll have 19 miles of range on Wellington streets. The 7.4-kwh lithium-ion McLaren Artura battery pack that powers the Artura's motor can charge up to 80% of that range in just 2.5 hours from a 240-volt home charger. That said, if you switch to hybrid mode, the model will recharge the electric range of the battery itself as you drive.
2022 McLaren Artura Engine Specs
The 2022 McLaren Artura features a 2.9L V6 engine that, on its own, produces 577 hp and 431 lb-ft of torque. Paired with the electric motor, power increases to 671 hp and 531 lb-ft of torque. Other highlights of McLaren Artura performance include:
This powertrain allows you to rev up to 8,000 RPMs, offering you a high ceiling for acceleration.
Factor in the 8-speed dual-clutch automatic transmission, and that acceleration is complimented with silky smooth shifting.
At 3,530 pounds, the Artura is lighter than ever too, so expect that acceleration to be especially thrilling.
Finally, the 19-gallon McLaren Artura fuel tank capacity means that you won't be wasting much time at the pump.
Learn More About the 2022 McLaren Artura Battery and Specs
Now that you've read what we know about the 2022 McLaren Artura range, if you have questions about charging times, performance, or fuel tank capacity, don't hesitate to reach out. You can call McLaren Palm Beach at 561-556-5454to learn more about the upcoming McLaren Artura and when it's slated to arrive in West Palm Beach. In the meantime, take a moment to explore our McLaren research guides of other helpful reads, including our comparison of the 2022 McLaren Artura and the 2022 McLaren GT.
Express Your Interest in the McLaren Artura
More About McLaren Artura Features